Cardboard Box Added to Toy Hall of Fame
Maybe it's because I grew in a military family and we moved frequently (26 times before I left for college) but we always had plenty of boxes around. And they were the best toys ever... forts, sleds (work well on grassy hills, too), playhouses, could be cut up to make suits of "armor"...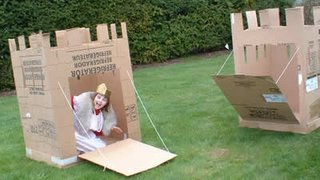 And they come is several different sizes! Still available at your local U-Haul
store
...
Finally, a Hall of Fame choice I agree with!
UPDATE: Looking even better in light of
Lex's woes
.